Description
The electronics for building your very own Radar Speed Sign!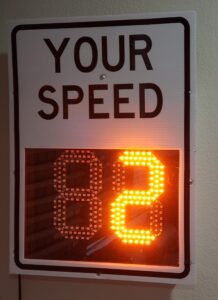 This kit includes:
HB100X Doppler Radar Sensor
Pico Radar Speed Sign Control Board
Short 3-pin servo cable
2x Bigass 7-Segment Displays (252 LEDs!)
If you would like to build the project into something like this, you will need to provide the following materials.
Sign construction materials.

Coroplast sheeting
Aluminum pop rivets
Plexiglass
Flat black spray paint
Decals (patterns are available here)

12V 3A power supply. 3S LiPo batteries can be used for this, but we highly recommend adding a fuse if you decide to use the spicy fire bag to power your sign.
Wiring. Crimps are optional but make things nicer (headers on boards a 0.1″ DuPont style).
Protoboard for distributing 12V power from your supply to the controller board and each 7-segment display digit.
NOTE: Radar sensor range is intended for pedestrians, and won't do a very good job of picking up far away targets like cars. We've seen some cool experiments around extending the range of the doppler radar sensor by building some custom horn antennas, so if you go down that path we'd love to hear from you!